When, one morning in January, the Parisian publisher Sophie de Sivry calls her friend Marjane Satrapi to talk to her about Iran and her burning desire to create a book that will support the rebellion that is shaking the country after the death of a young woman – Mahsa Amini, arrested by the moral police due to an improperly worn veil – he does not imagine the scale of the commando operation that will be caused or the fever that will affect the small team responsible for the project. The head of L'Iconoclasta edition wants to act. She cannot bear this feeling of helplessness felt by all those who, thousands of kilometers from Tehran, since September 2022 have observed the repression of demonstrations, arbitrary arrests, sentences to flogging, imprisonment or even death, hanging. We must reach out to this youth, mobilize Western opinions, ban indifference, break the silence of intellectuals and politicians in the face of the barbarism of the leaders of the Islamic Republic in dire straits. She paws. And he doubts that Marjane Satrapi vibrates in unison.
"My whole life was on hold for four months!confirms the artist who was born in Iran in 1969 and grew up there before going to France in 1994, where she became famous with her autobiographical comics, Persepolis (4 million copies), translated into a hundred languages ​​and shown in cinemas. For four months, I thought day and night about Iran, searched for the slightest information, marveled at the insane courage of this youth who was no longer afraid of anything, moved heaven and earth to support the rebellion! »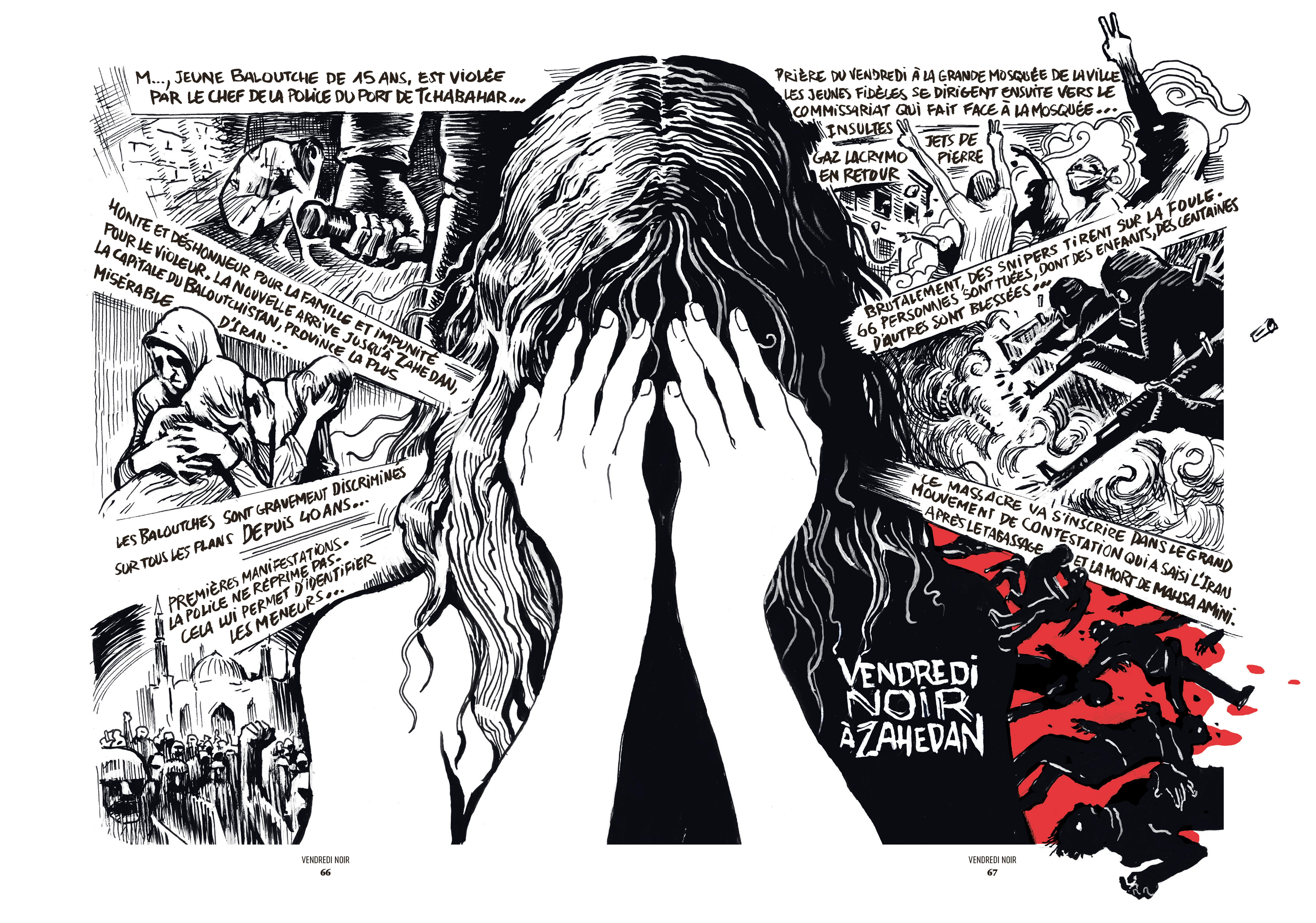 Sophie de Sivry's proposal is therefore timely. "Yes, a book. Of course, a book! » A book about UFOs, a book about events, "A book that needs to be conceived with urgency and passion, anger and brotherhood". collective, "because the Women, Life, Freedom movement is a huge popular wave". Graph, "because the drawing immediately speaks to everyone". internationally, "with collaborators from several countries, including Iran, and at the risk of their lives". A book that would appear simultaneously in several Western capitals, but would be translated into Persian and freely available to Iranians, via the Internet. "Because you can't imagine how much they need to know that they are supportedsays Marjane Satrapi. To what extent even the smallest gesture gives them hope, even if it's symbolic like the music video we made in November with a song in Persian Barayé, which became the anthem of the revolt, or when Western actresses or singers cut off a lock of their hair. This may seem trivial, but it told them: you are not alone, your struggle is important to us. In the absence of politicians, driven by cynicism, you have Western civil societies and artists on your side. » And that's the idea.
You still have 85% of this article to read. The rest is reserved for subscribers.