It's 6 pm, a normal day for high school students. But on this evening at the end of July, the doors of the Jean-Vilar college are apparently closed. However, behind the establishment, which was completely renovated by the department of Seine-Saint-Denis and which was inaugurated in 2021, we can hear a few noises and an intoxicating "bam-bam". As we follow this soundtrack, we are behind the college on a large covered multi-sports field. About thirty young girls in black t-shirts with the logo "Take your shot" were busy with basketballs in their hands when the energetic "Put the balls on the ground!" was heard. »
Welcome to " Taste the summer », a summer program dedicated to about forty high school girls from two institutions (Jean-Vilar and Raymond-Poincaré) in La Courneuve, where we combine basketball and trips away from everyday life: "From the beginning of July until the end of August, we meet here every Tuesday night for fun basketball. And once a week we leave La Courneuve for a cultural excursion or to discover another world, for example a professional one."is described in detail by our guide Sonia Ouaddah, 42 years old, an educator in the sports department of La Courneuve, but also the vice president of the Study Hall 93 citizens' association that he created Diandra Tchatchouang, basketball player with the number 93 of Seine-Saint-Denis – also read his interview below – former student of Jean-Vilar.
Commitment and trust
The bronze medalist from the Tokyo 2021 Games and the sports instructor have been friends for more than 20 years. A memory that lights up Sonia Ouaddah's face: "I knew Diandra when she was eight and we always followed our relationship even when she left La Courneuve at 14 to joinINSEP »the "factory" of the Bois de Vincennes champion.
So, when Diandra created in 2016 Try it, a day of events to instill confidence in young neighborhood girls through sports, Sonia is here. And seven years later, she watches young basketball apprentices between the ages of 11 and 15 battle it out in a pair of cat basketball games: "If two-thirds of the group find some kind of sporting activity again, we'll win it all," she says. What we want with Diandra is to give them a taste of sports activity, not necessarily competition. And coming here during the summer is also a must. That's why it's not à la carte, please let them know if they have to be absent. »
In any case, there is no question of drying out for Anissa, a 15-year-old judoka in Dugny and a slender figure of a basketball player: "I love coming here, we make friends, get out of everyday life, discover new people. Honestly, it's great because normally the summer is long, we only go the last two weeks of August with my parents. Discovering the headquarters of Nike in Paris, talking to the people involved in marketing, was very interesting," reveals the student who is already planning a career as an engineer or doctor.
Sponsor of the Take your shot programme, the comma brand will cover the financial costs of half of the sports license for young people who sign up for the club at the start of the school year, while opening up their network and interpersonal skills to young Courneuvians. The discovery of the business world that also left its mark on Ouma, a fifth-grade student with a smile that seems eternal: "It's motivating to hear people say they work with passion, because that's not always the case with my mother who works as a secretary."she says honestly before heading full steam ahead towards the passing session that started without her.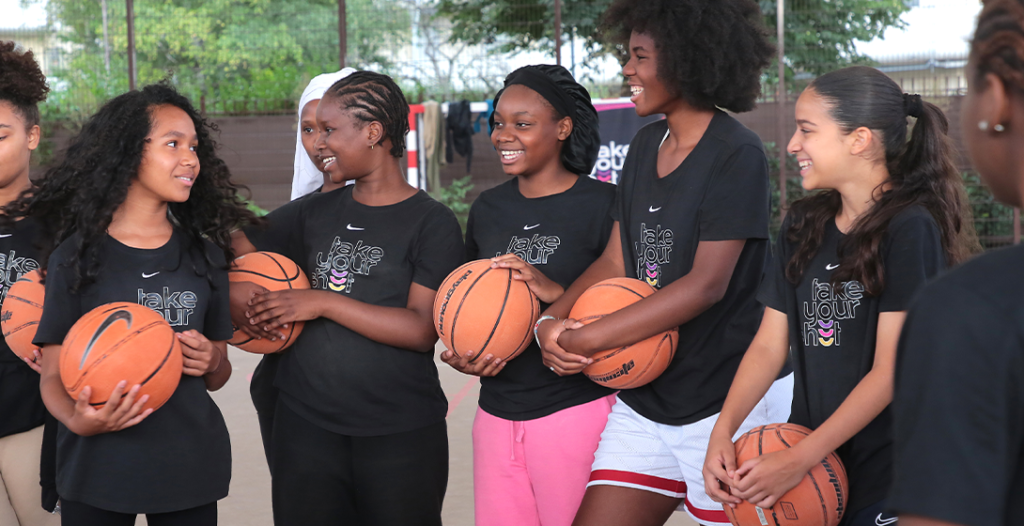 Convey your passion
An exercise led by two former students who experienced the start of Take your shot in 2016. "I was a student then and meeting Diandra, an inspiring person, changed my life," says Lindsay, now 20 years old. , launched in 3e year of studying international business. She gave me the desire, the strength to do something else with my life, not to be satisfied with what I was at that moment. So now I'm back as a volunteer for Take your shot, trying to pass on my passion, certain basketball values ​​like cohesion. Anyway, it's clear that what Diandra and Sonia are doing in La Courneuve is great because most of the girls here have a summer that doesn't really feel like a vacation. Most often they have to look after their younger brothers or sisters, so when they are with us, it is their time. »
Annie, 20, also a business student and Lindsey's basketball workshop partner, continues: "In fact, we are passing on what they taught us with Take your shot: we are here to help open the minds of young people, to tell them that many things are possible if they dare. A little later, I recognize myself in the young girls who are there. We exchange ideas, talk about their daily life, laugh, dance, have fun. It's not just basketball and that's good! »
It just goes to show that holidays under baskets can easily be worth those under palm trees…
INTERVIEW: "Show that if you push the door, it opens! »
Three questions for Diandra Tchatchouang, former international basketball player, founder of the Study Hall 93 association in La Courneuve.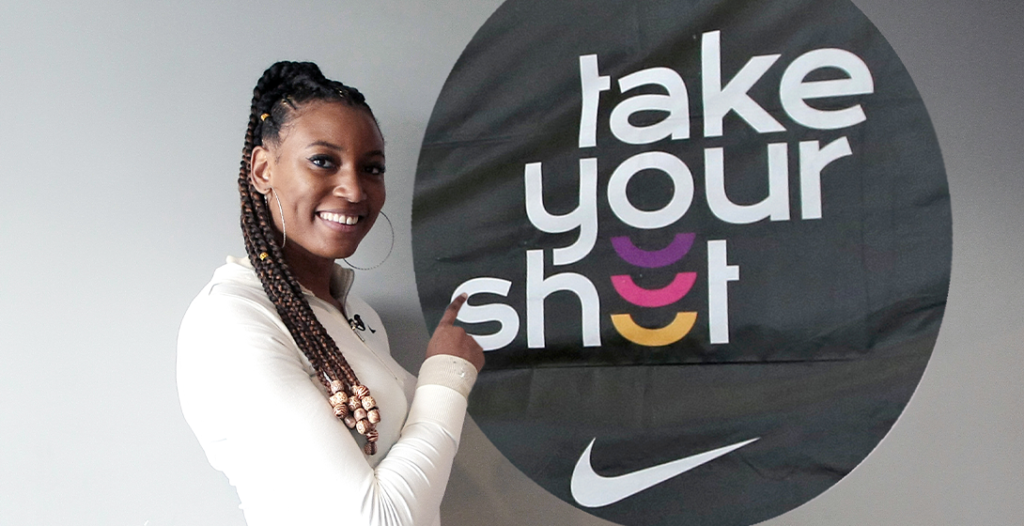 Retired from the field since June 2022, the winger with 107 caps has continued her fight for the promotion of women's sports since this summer as project manager "Team Go Girls"experimental program carried out in Pantin and in the 19e of the Paris district in partnership between the National Sports Agency and equipment manufacturer Nike "with the aim of building a model for encouraging young girls to play sports. »
The mission is obviously enriched by its associative engagement. Interview.
If we summarize "Take your shot summer" by saying that it's not just basketball, are we wrong?
Yes, because in addition to the basketball meetings, which aim to ensure that those schoolgirls who play little or no sports at the beginning of the school year get a license in a sports club, we also bring them to meet people who look like them and who have successfully completed professional training. sports and artistic career.
– The idea is not just to give speeches?
Yes, it's nice to tell young people not to set boundaries, but if these young girls don't have an idea of ​​what they're being sold, they don't believe it. That's why I tell them by example – like them, I come from La Courneuve – that everything is possible. Regardless of your social class, if you push the door, it will eventually open!
– A message carried by the young girls you have been following since 2016…
Yes, Take your shot actually started seven years ago and over time female students who came to our events joined us to support our mentoring program. The strength and confidence they can bring to the young girls involved in our program is incredible and makes us happy because it is through this broadcast that we provide both positive and inspiring examples…