SOLIDARITY
Help solidarity initiatives, intensify support for charitable associations and activities. A recognized and respected institution, the Union Bordeaux Bègles uses from his media coverage to raise awareness and know the positive actions that result from associative environment.
UBB has established numerous partnerships with associations such as Drop de Béton, Ovale de l'Espoir, Septembre en Or, Octobre Rose, Aladin, Ovale Citoyen, Maison Ronald Mc Donald's, Aladin, etc.
In total, the 2022-2023 season is counted 100 actions of the Heart of Rugby in the pillar of solidarity. From the summer of 2022, several thousand tickets for matches were offered to dozens of associations. And this season was an opportunity to achieve a first job getting to know UBBcomposed of 20 partnersfrom 3 associations and from Employment center. Signing agreement with Bordeaux University Hospital it was also one of the highlights of the season, below the visits of Matthieu Jalibert, Maxime Lucu and Lé to the small patients of the pediatric center.
Signing and implementation a signed contract with Charles Perrens Hospital also went in the 22-23 season. With the help of the service Mental health establishment, awareness raising campaign to the general public was conducted by the club, and two sessions were held directly to young players training center.
Seduced by this initiative, the former Minister of Health François Braun came to meet the club's leaders. This project was also selected among the favorites highlighted by the National Rugby League and Canal + on the occasion of Rugby Night 2023.
DROP OF CONCRETE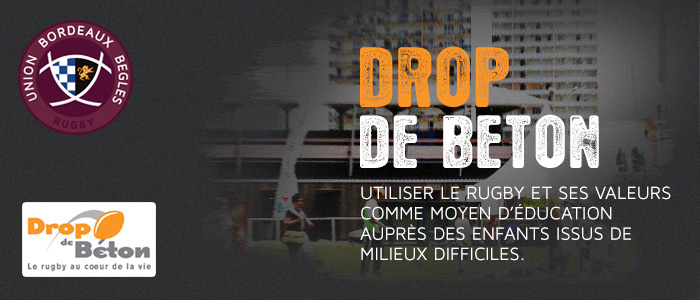 Drop de Béton is an association that uses rugby as a social integration vector for disadvantaged children. The association founded by two enthusiasts Jean-Claude Lacassagne and Yves Appriou (coach of the French champion Béglais in 1991) is celebrating its 20th anniversary in 2017!
Regularly during the season, UBB and Drop de Béton invite children to Union matches. The association also organizes an event once a year at the André Moga stadium in Bègles, sponsored by the Engie Group.
Learn more about Drop de Béton
CITIZEN OVAL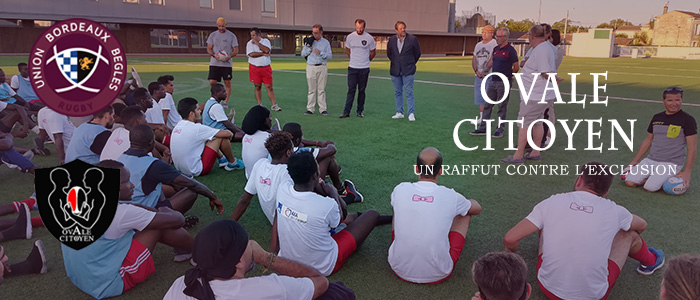 A young Gironde association, created in the summer of 2018, Ovale Citoyen supports the professional and social integration of people in precarious situations (homeless people, migrants, asylum seekers, etc.). Through the rugby team, the first of its kind in France, Ovale Citoyen wants to get these people out of their difficult everyday lives. Every Monday, a two-hour training session takes place on the CEVA campus, after which the players are served a hot meal. Ovale Citoyen transmits the best values ​​of rugby every day: mutual aid, solidarity, team spirit… In less than a year, Ovale Citoyen signed contracts with employment centers and temporary work agencies and developed in Pau, Montpellier and now Paris. Today, 17 different nationalities are represented there.
As sponsors of the association we find: Raphaël Poulain (professional French rugby player) and Maryse Éwanjé – Épée (athlete, columnist and French radio and television presenter).
Visit the Ovale Citoyen website
Oval of hope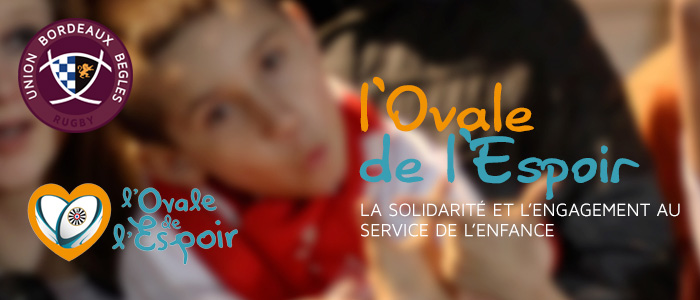 L'Ovale de L'Espoir is committed to supporting children placed in MECS (Social Children's Homes). Acting basically as a boarding school and taking on more than this role previously assigned to the orphanage, they accept, after court decisions, children who need protection in the face of abandonment, failures, lack of parents or even more different maltreatment.
UBB regularly invites children from MECS and their educators to their home matches, and during the week also at Moga Stadium for training sessions to get to know the players.
Visit the Oval of Hope website
BORDO SOLIDARITY SPONSORS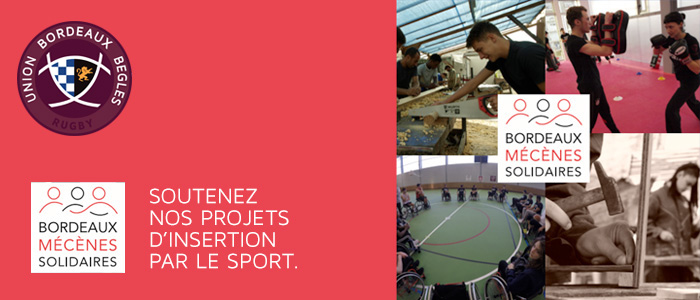 Bordeaux Mécènes Solidaires is a solidarity fund that invites residents and businesses of the wider Bordeaux area to support local associations for integration, the fight against insecurity and social innovation. Laurent Marti is the godfather of the Bordeaux Mécènes Solidaires and represents its values ​​of solidarity, team spirit and a sense of effort, also dear to rugby.
Every year, UBB supports the project of remobilization through sports for young people who are in the car, putting it in the spotlight during the UBB Grands Crus evening.
Visit the Bordeaux Mécènes Solidaires website
BORDEAUX CHU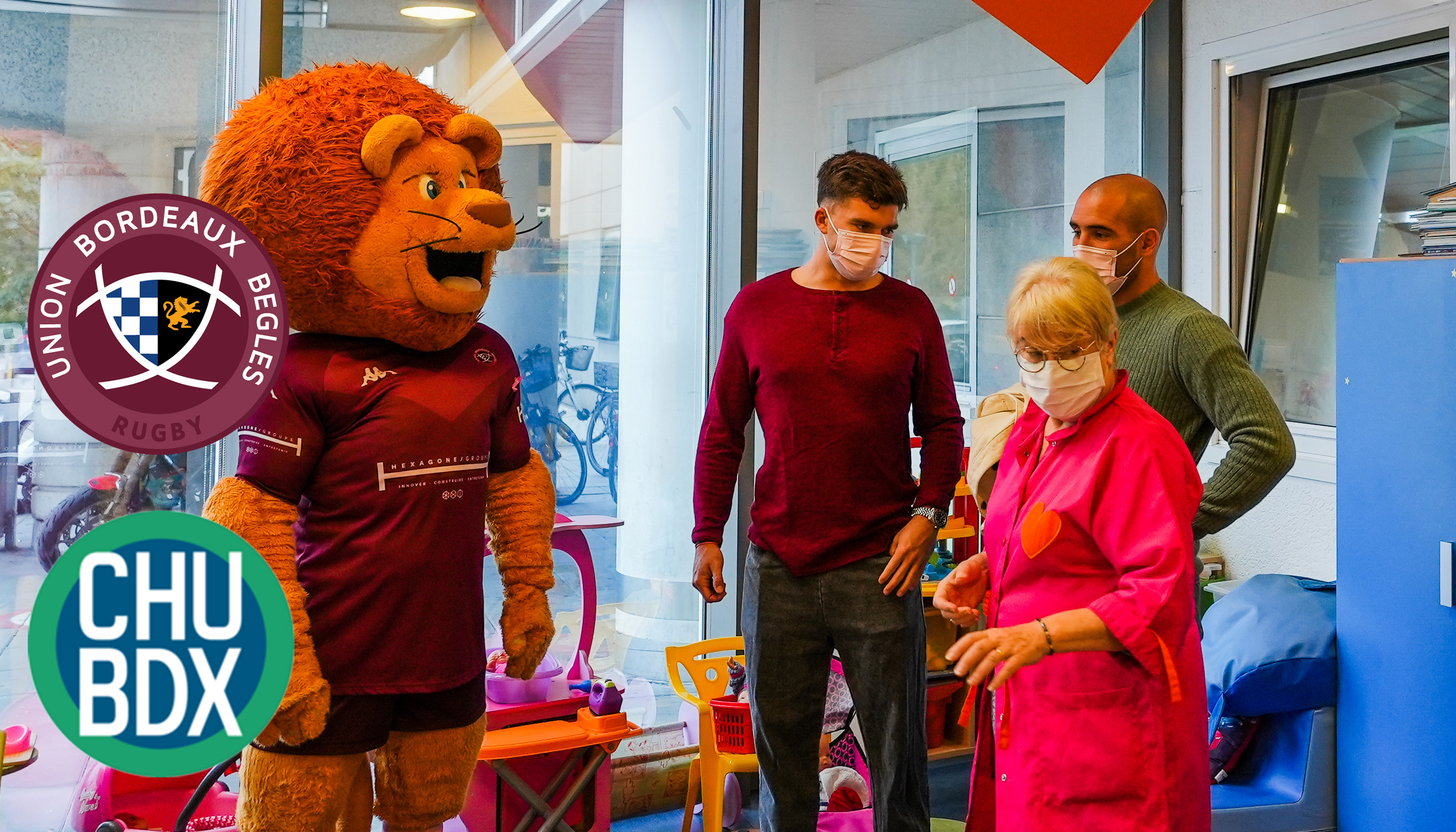 Support for cancer screening and research
Based on a tripartite agreement with the Bordeaux University Hospital and the Gironde Cancer League, UBB has committed to support the following events:
Leo and the players at the children's hospital
In addition to the cause of cancer, the club and the Bordeaux University Hospital have also agreed to increase various initiatives this season:
Youth convention
Actions will be carried out with the Children's Hospital, with visits by our mascot Lé and UBB players to small patients
Management and quality of life at work
Bordeaux University Hospital will benefit from the expertise of UBB experts, who will periodically intervene on the following topics: team management, performance management, nutrition. Tours of Chaban Delmas Stadium will also allow health personnel to come and discover behind the scenes of the stadium.
September in gold
The League Against Cancer reminds us that every year in France, 2,500 children and adolescents are diagnosed with cancer, and 500 of them die from it. It is the leading cause of death among children in France and Europe. Today, on the occasion of the start of the game, the club and the players wanted to give visibility to this little-known reality and support children and their families.
Let's not leave childhood cancer aside together!
Every day these children push their limits in the face of illness. They are real superheroes. They give us a life lesson and the desire to fight for them. Together we can create hope. With children, with families, with caregivers, with researchers, with all those who make life easier for small patients.
On this occasion, Union Bordeaux Bègles will dedicate every year to this purpose, the start of one of its games in September. This year, little Team had the joy of performing a fictitious kick-off during the match against Castres.
PINK OCTOBER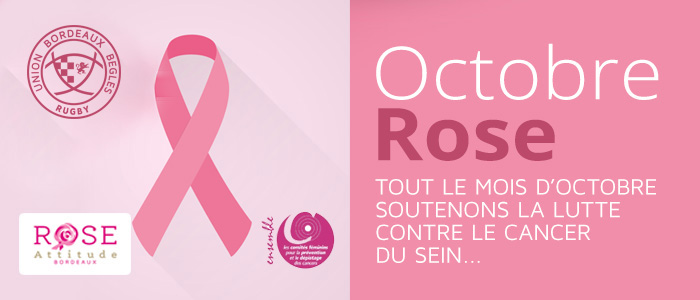 Pink October is a national movement dedicated to the fight against breast cancer through screening campaigns and social reintegration programs after treatment.
UBB is joining forces with the Rose Attitude association in favor of the Pink October movement on the occasion of the UBB-Stade Français Paris match on Saturday 1 October.
Visit the website of the Rose Attitude Association
RONALD MC DONALD HOUSE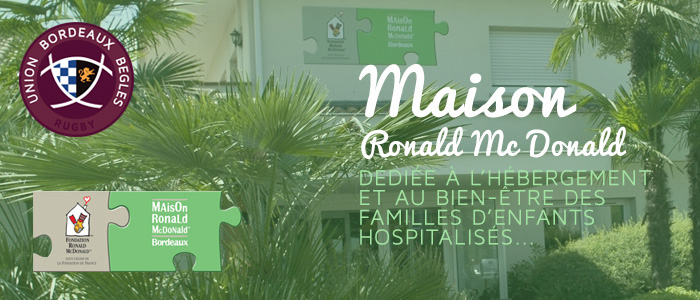 Opened in 2001, the Ronald McDonald House in Bordeaux is located near the Children's Hospital at the Pellegrin Hospital Group site. Consisting of 17 rooms and numerous common living spaces, it welcomes families of hospitalized children to help preserve family ties despite illness. It is designed so that families can truly feel "at home". Much more than just a place of accommodation, the House allows people who are close to the little patient to feel surrounded and supported at all times.
Several times a year, UBB players visit events organized by the Maison des Parents, either to visit families or during charity evenings.
Learn more about Ronald McDonald House
Aladdin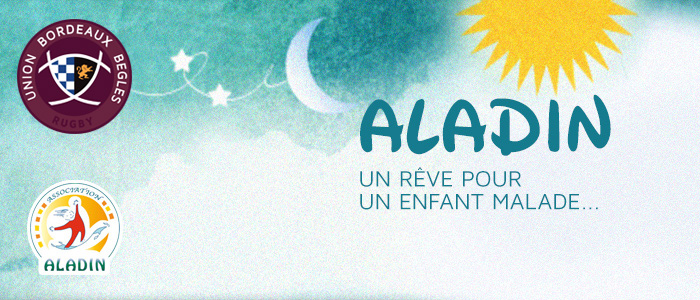 The Aladin Association has been helping chronically or seriously ill children for 30 years. This association aims to do everything to make the dreams of hospitalized children come true and thereby improve the conditions of their stay in the hospital. The realization of that dream gives the child a moment of escape, allows him to better accept care and plan for the future. The association realizes between 50 and 60 dreams every year.
When they are invited, the UBB players try to respond to the child's "call to dream", by visiting them to hang out with them, get to know them and take some photos.
Visit the website of the Aladin association
THE VANGUARD GENERATION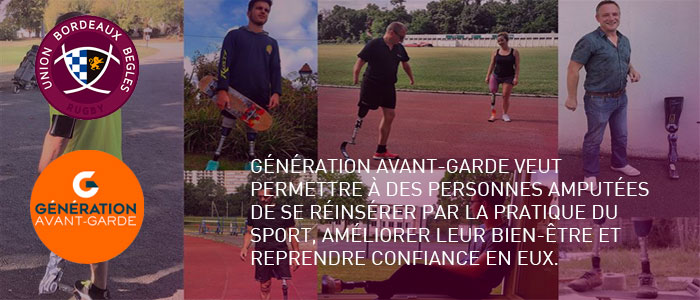 The Génération Avant-Garde donation fund was established in 2019 to implement solidarity projects around sports and disabilities.
Génération Avant Garde strives to offer special prostheses to amputees to enable them to play sports again. Physical activity will promote their well-being, their autonomy and integration.
Génération Avant Garde also supports young hopefuls in developing their talents to become the professional athletes of tomorrow
VISIT THE AVANTGARDE GENERATION PAGE
Equal pay
From 2019, the Act on Freedom of Choice of Professional Future subjects companies to an obligation of results with equal pay. It created the Index of professional equality between women and men. It is calculated every year on the basis of indicators that make it possible to assess the inequality between women and men in companies and take measures to correct the situation: compensation, increases, promotions, maternity leave, top management parity.
SASP Union Bordeaux Bègles index for 2020 is 35/45.